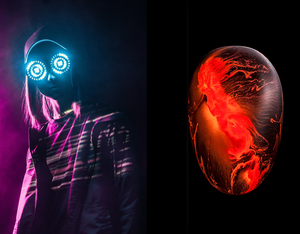 Rezz x Deathpact - Kiss of Death is a Smash You Have to Hear
Rezz x Deathpact - Kiss of Death is a Mid Tempo smash hit. This track is truly an adventure, transporting you to another world. Rezz has worked with a share of upcoming producers and this time our Space Mom has teamed up with newcomer Deathpact. Deathpact has exploded onto the scene this past year, bringing the mystery that we all love in the EDM world. Who is Deathpact? Tiesto? Marshmello? Daft Punk?
Deathpact has shown that creativity is not dead and EDM artist are willing to continue to push the envelope to keep us interested. If you haven't yet checked out his website you will definitely want to give it a view. Keeping a cool mysterious element to his aesthetic that also matches his Mid Tempo music.
The track is a perfect combination of the two's styles and we hope to see future collaborations between these two.
If you loved this track and want to learn how to make this track. Make sure to check out our YouTube tutorial down below. We fully breakdown the track and show you how we made the bass from the track. We are giving away a free Serum Preset as well as the accompanying Ableton FX Rack. So make sure to go and grab that. Rezz x Deathpact - Kiss of Death.
---