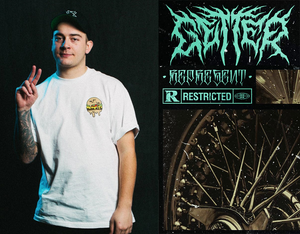 Getter Goes Back To His Roots With All Out Banger "Represent"
Dubstep fans around the world rejoice at the release of Getter's new track "Represent." The track has a "Boom-Bap" feel to it and is slow and heavy. It has that old school dubstep feel that made Getter famous but with new age soon design sure to get any bass fan/producer/wook/raver/priest excited. The track hits super hard and is something you can slap in the car as well as at a festival. Even the artwork is representative of older Getter.
Does this mean that Getter is returning to Dubstep with "Represent"? Bringing back the old wave with a new twist? Or was this a one-time fan service? Only time will tell but we are excited to see where he goes next and we are sure whatever he releases, we'll be there to enjoy it.
The track has sparked a bit of controversy over whether this is a response to the negative backlash of Visceral or if this a genuine desire by Getter to return to his old style. We hope that Getter is making music that he is excited about and the pure power of this track makes us believe that this is something that he feels passionate about but the future will show his true motives.
Getter is a true hard worker and has his hands in lots of different projects. Terror Reid is his Hop-Hop / Rap alias where he drops his rap focused tracks featuring him on vocals. He also has his clothing brand The Shred Collective, featuring awesome streetwear. Also, he has his TV reality show "The Real Bros of Simi Valley." He's a true artist and an amazing talent.
If you love heavy bass and crazy sound design. Check out our Youtube tutorial where we break down how to make the bass from "Represent" from scratch in Serum in Ableton 10. We go over the different elements in the drop and then show you how to construct the main bass. Don't miss out! 
---